Posted on | March 13, 2010 | No Comments
Like many other people around the UK I have had an increasing number of political leaflets posted through my door as we approach the next election. However, whilst social media offers the opportunity for the candidates to engage in a conversation with their voters, the online element still seems to be secondary to the one-way approach of traditional media. The online element is generally tucked away, suffers from curious branding decisions, and occasionally at a different URL to the one provided.
What follows is an unscientific analysis of five recent leaflets by the three main parties that have come through my letterbox.
intouch - Local Park Ward leaflet by the Conservative Party
No online presence indicated, just a rather difficult to read unbranded email address on the front page.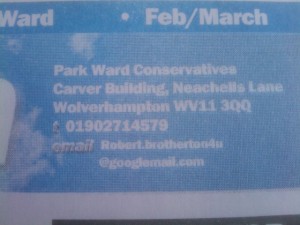 Change – Leaflet from the parliamentary candidate for the Conservative Party
Unbranded email address on middle pages, with a link to a generic static Wolverhampton Conservatives web site (www.wolverhamptonconservatives.com) with no worthwhile content.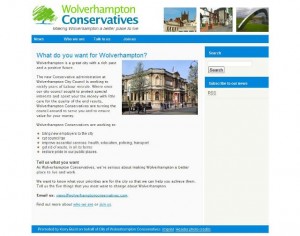 Rob Marris MP – Leaflet from the local Labour MP
Link to my local MP's regularly updated blog at the bottom of the back page (www.robmarris.org.uk).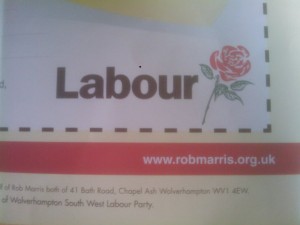 Wolverhampton: Your choice! – Leaflet from the Wolverhampton MPs and parliamentary candidates
At last a leaflet with a URL on the front page, and whilst it's not a blog, it is at least a regularly updated web site with relevant local information (www.wolverhamptonlabour.com).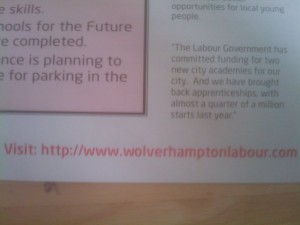 Focus – Local Park Ward leaflet from the Liberal Democrats
Without a doubt the local Lib Dems have made the biggest attempt at promoting a social media presence, highlighting Twitter, Facebook, as well as URLs for various Lib Dem web sites. The local councillors are using their official @wolverhampton.gov.uk email addresses, whilst the other email address is a @wolverhamptonlibdems.org.uk.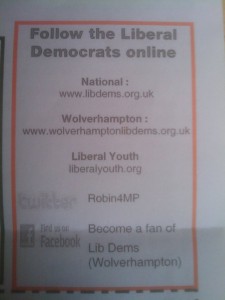 Unfortunately they also made the major mistake: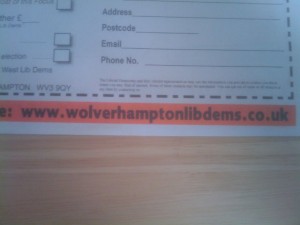 Wolverhampton Lib Dems don't have a .co.uk domain!
Conclusion
A mixed set of results for the local parties, with the Conservatives having made a particularly pathetic effort. Traditional media has probably still got the most influence when it comes to a general election, but where there are small majorities (and 'Wolverhampton South West' is one of the most marginal seats – majority 2,879)  there is no doubt that marshalling the forces of social media could make the difference. Unfortunately for the Lib Dems, they are the party for whom the gap is probably too big for social media to make the difference.
Posted on | February 11, 2010 | No Comments
I regular write for Research Information, an online and print publication about online content and information management. Whilst online publishing can give you access to a host of statistics not readily available in the traditional printed copy, publishing on someone  else's site means that you have to look for some of the traces left on the web.  Whereas in the past I would have first looked for inlinks to web pages, now I tend to focus more on the conversations happening on social media sites such as Twitter.
Today I was pleased to see how the two Research Information articles that have been published up to now [there are more in the pipeline] compare with other articles in the same journal.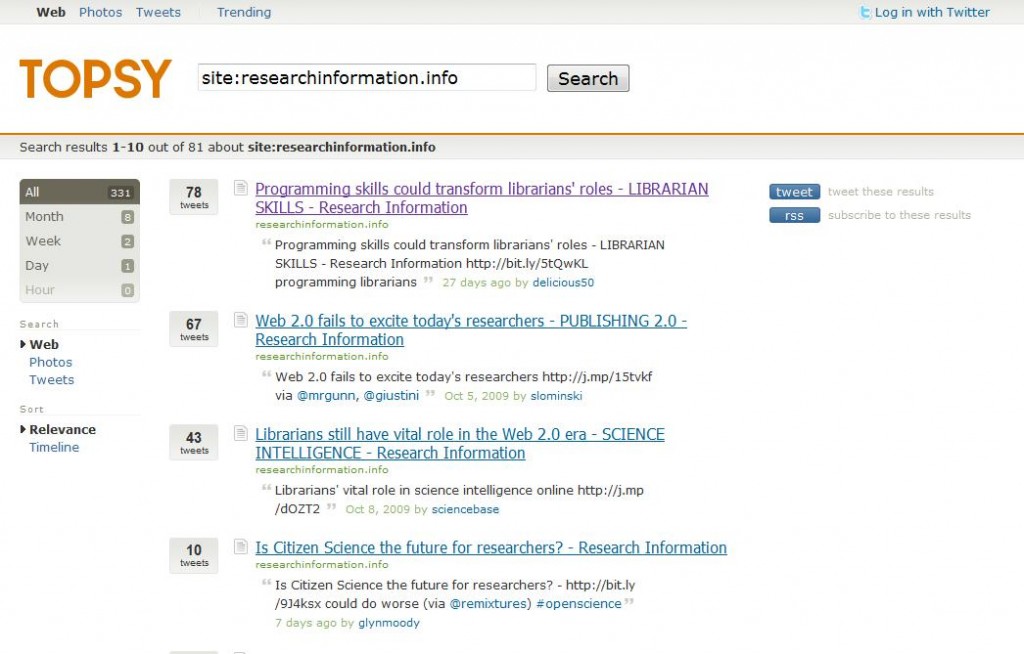 According to Topsy 81 of Research Information's web pages have been mentioned on Twitter, and the most popular two are by me: Programming skills could transform librarians' roles (78 mentions); Web 2.0 fails to excite today's researchers (67 mentions).
As would be expected, at least by the biblio-/webo- metricians amongst you, the distribution of Twitter mentions broadly follows a power law.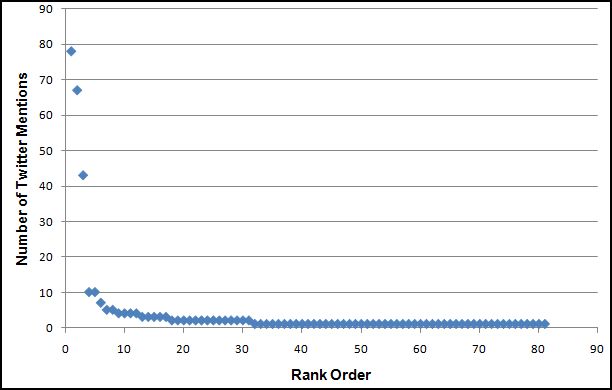 Which means third place is quite a distance behind on 43 mentions, and the vast majority of pages have only been mentioned once or twice.
Metrics are only the start of a conversation rather than the end, as there are a host of possible reasons for the difference in Twitter mentions, e.g., my papers may be considered more controversial by some sections. Nonetheless, it's nice to start the conversation from the top of the pile

.
Posted on | February 1, 2010 | No Comments
At last it is February, and I am thrilled to see the back of both December and January.
From the 1st of December it is virtually impossible to get any work done as everything revolves around Christmas: the parties, the break, the present buying. If you were visiting Britain from a country that didn't celebrate Christmas you would be forgiven for thinking that Christmas was a month long festival rather than a single day.
Then finally January arrives, but just as you think you can throw yourself back into work you find that everyone else is catching up on the work they should have done in December!
It is only now that things finally seem to be getting back to normal. On Friday I finally received the Jan/Feb issue of Online with my article What are Libraries doing on Twitter? and the book with my chapter Social Network Sites: An Exploration of Features and Diversity that should have been published at the end of last year.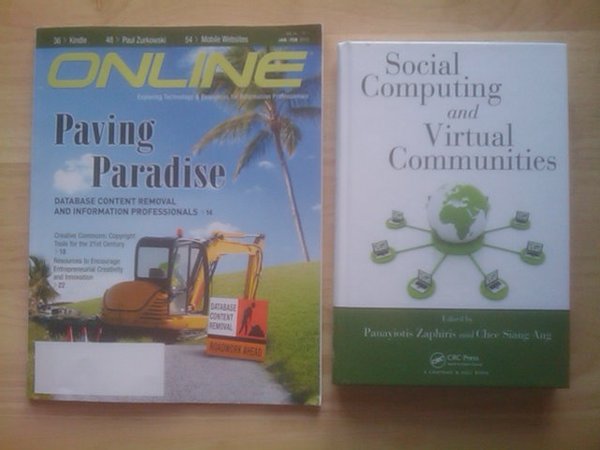 Nb. Unfortunately my Twitter article has not been made freely available online, so (unless you have a subscription) you will have to wait the 90 days before I'm allowed to put a preprint online.
Posted on | December 18, 2009 | No Comments
As I've mentioned before,  and will no doubt mention again: there's no one-size-fits-all approach to social media. Just because a particular web site or technology is flavour of the month doesn't mean it's necessarily right for you or your business. In fact your ideal network may be one considered past its prime.
I came across a good example of this at today's Birmingham Social Media Cafe, where I spoke to a couple of people from Cornwall Street Chambers Media Law Group (CMLG).  Despite new media's talk of the demise of MySpace in favour of the less-gaudy Facebook, and the more business-orientated LinkedIn, CMLG find that MySpace is still a web site that works for them.
MySpace has the demographic they want to work with.
They find that they can fit MySpace into their personal routine.
Surely these are the two most important factors in the adoption of any social media technology.
Posted on | December 16, 2009 | No Comments
In addition to regularly writing magazine articles, I regularly review books for a couple of library and information science journals. It provides a great way to get books I wouldn't buy otherwise [academic books can be VERY expensive]. Unfortunately in editing one book review recently (best example of how not to publish a book
), the editorial process which generally improves the quality of published work actually managed to weaken the argument and introduce errors!
The original comment on the book's index:
The eclectic nature of the work means that an index is essential for the social software researcher, but whilst it has an index, it is eccentric to say the least. For example, whilst the foreword informs readers that it covers issues such as tagging and folksonomies, these terms are missing from the index, whereas, bizarrely, both World of Warcraft, dark forest scene; and World of Warcraft; are worthy of inclusion. The index is littered with such idiosyncrasies.
The edited version:
The eclectic nature of the work means that an index is essential for the social software researcher – while there is an index, it is eccentric to say the least. For example, the foreword informs readers that it covers issues such as tagging and folksonomies, but both terms are missing from the index, whereas, bizarrely, the World of Warcraft is worthy of inclusion.
On its own the original finds nothing bizarre about the inclusion of World of Warcraft.
Coupled with which, in a review complaining about the book's number of typos, my editor managed to introduce a typo! It went from "There is little to recommend this book" to "There is little to commend in this this book".
Whilst exasperating, this my only bad experience of the publishing so far, although as I'm currently working on a proposal for a new book, I'm sure there are many more annoyances ahead.
Posted on | December 9, 2009 | No Comments
Following on from the Bing Roundtable back in June, I was invited back yesterday to have a one-to-one chat with Jordi Ribas, the General Manager of Microsoft's Search Technology Centre Europe. Building from the starting point of Bing's new features, it was a wide-ranging conversation that covered everything from Yahoo! BOSS to Murdoch's plans to block Google News.
With search continuing to play such an important role online, and some major upheavals ahead, it seems an appropriate time to cobble together a few of my thoughts on the future of search based on yesterday's conversation and some recent news stories.
Just two algorithms to rank all sites?
The search engine market is currently dominated by a very small number of players:
The lack of competition is bad for both innovation and web site owners, and the situation looks to get worse when Bing starts to provide the search results for Yahoo.
From the perspective of web site owners, fewer search engines is bad because they become ever more susceptible to the whims of fewer ranking algorithms. At the moment, with the dominance of Google, if Google change their ranking algorithm in such a way that it penalises certain sites, the businesses behind these sites will suffer.
Bing and Yahoo argue that it should not a choice between three different ranking algorithms or two, but rather two or one; if they down join forces neither can successfully compete with Google individually. Whilst I'm not necessarily convinced by this argument, the latest announcement of personalised search by Google will mean that there is no single Google algorithm, and this may help the Bing/Yahoo cause with the EU competition commission.
From an innovation perspective I was also reminded yesterday that the deal is limited to search results, and much of the current innovation in the search arena is focusing on features built around search – for example the inclusion of real-time features such as Twitter comments – and Yahoo will be able to continue competing with Bing in this area. I was also given assurances regarding the future of Yahoo BOSS.
Search APIs and the future of search
My biggest fear about the Bing/Yahoo collaboration was the effect on the Yahoo API. Yahoo is the last of the major search engines with a decent API: allowing the inclusion of additional operators to collect data about links to a specific web page or web site. This information is very important for understanding the perception of an organisation and its competitors, as well as allowing wider experimentation with the search process. With Bing turning off their link operators I feared that Yahoo would also lose its capabilities.
Rather than a sudden replacement of all the Yahoo search products on a single day, I was assured that Bing would only be replacing Yahoo products where it showed it was capable of doing so, so the changeover with the API wouldn't come about at the expense of the current users.
Also, the potential of programs like Yahoo BOSS for innovation in search are increasingly recognised by people in Bing. Not only does it offer the opportunity for a range of experimentation not possible in a single organisation, but at relatively little cost to Bing it could a huge amount of good will among technology community. Jordi assured me that he would try to push for a better Bing API.
Conclusions
Overall I was more positive about the state of search at the end of the meeting than I was at the beginning, especially regarding the future of search APIs. At the moment search is very much stuck in the world of web 1.0, failing to tap into the true potential of the wisdom of the crowd, but I have hopes it could offer more in the future.
Posted on | December 5, 2009 | No Comments
Following on from the Bing Roundtable back in June, I have been invited back down again on Tuesday to another conversation with Jordi Ribas, the General Manager of Microsoft's Search Technology Centre Europe. As such it seemed an appropriate time to cast a critical eye over Bing once again.
Back at the June round-table the emphasis was on getting the fundamentals right, and becoming less US-centric. Over five months later and you quickly realise that Bing have massively failed in shaking off that US-centricity. Both Bing and Google have the 'suggest' function as the default, although as the examples below show, Google has far more of a UK feel.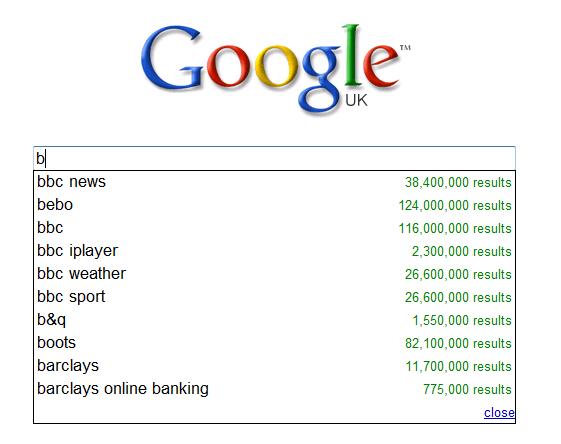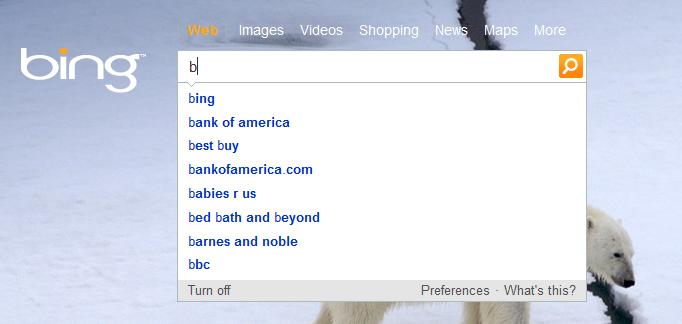 I'd like to think that wherever you are in the world the BBC should be suggested higher than "bed bath and beyond", but in the UK it is just bizarre. The letter 'B' is by no means a one off: US sites that few in the UK would ever be interested are  highly suggested throughout the suggestions. Get the fundamentals right? Become less US-centric? Not yet.
Asked what issues I was most interest in being discussed I suggested:
Bing providing search for Yahoo
The Bing/Yahoo API
Incorporating the real-time web
Posted on | November 19, 2009 | No Comments
Amazon.com have become very successful booksellers not only through their range of books, but through the vast amounts of data they collect and use to suggest additional books of interest to customers. This morning I was reminded of the crudeness of the current algorithms.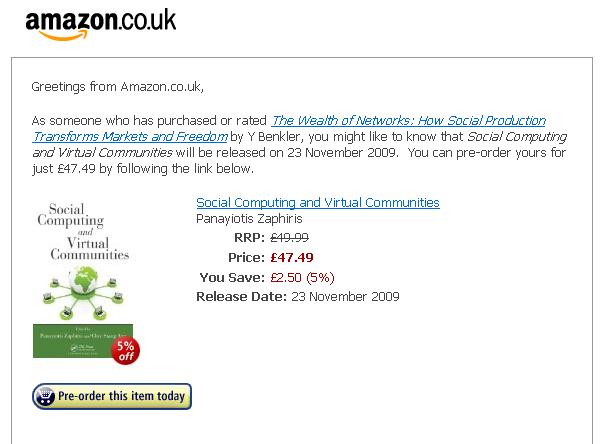 Whist the fact that I bought The Wealth of Networks is one reason I might be interested in Social Computing and Virtual Communities, it is far more likely that I will be interested because I co-wrote chapter 12 of the book:  Social Network Sites: An Exploration of Features and Diversity.
Whilst we may be fearful of the amount of data organisations collect about us, at the same time we can't help but be intrigued by the possibilities the data collection could offer in the future, when the algorithms are up to the job.
Posted on | November 18, 2009 | 3 Comments
I received a phone-call the other week from a local business that wanted help creating a more effective online web presence. Their notion of making the web work more effectively was incorporating a host of social media technologies, and creating a presence on some of the most popular social media sites.   "We don't even have a blog!" the caller stated, by way of emphasising the organisation's online dire  straits.  Unfortunately they weren't asking "Do we need a blog/a facebook page/a Twitter stream?"
There are two possible positions for the web 'expert' to take:
1) Snake-oil salesman – offering the potential of untold wealth if only the expert were allowed to set the client up with a Twitter account.
2) Consultant – offering to provide a realistic analysis of how the business could incorporate social media technologies as part of the working practices, and the steps they could take to measure the effectiveness of the particular social media strategy.
Unfortunately the offerings of the snake-oil salesman are far easier to sell, and this particular client didn't get back to me. Whilst businesses increasingly recognise the potential of social media, they often just want to use a particular technology or site because it's popular in the press. The rise of the social media snake-oil salesman is merely a case of supply meeting demand.
Posted on | October 6, 2009 | 2 Comments
In my previous post I looked at measuring Twitter impact by comparing actual number of followers with expected number of followers based on 'following' and 'updates'. Whilst that provides a simple means of analysis, Twitter is a social network site and (where possible) should be view at the network level. This post uses social network analysis techniques to investigate the interlinking of Tweetminster-listed MPs on Twitter .
The network diagram clearly shows that MPs are as bad as the rest of us when it comes to only listening to what we want to hear. The arrows point from the follower to the friend; so the nodes with the most arrows pointing to them are the most followed. [Click here to see full-sized picture].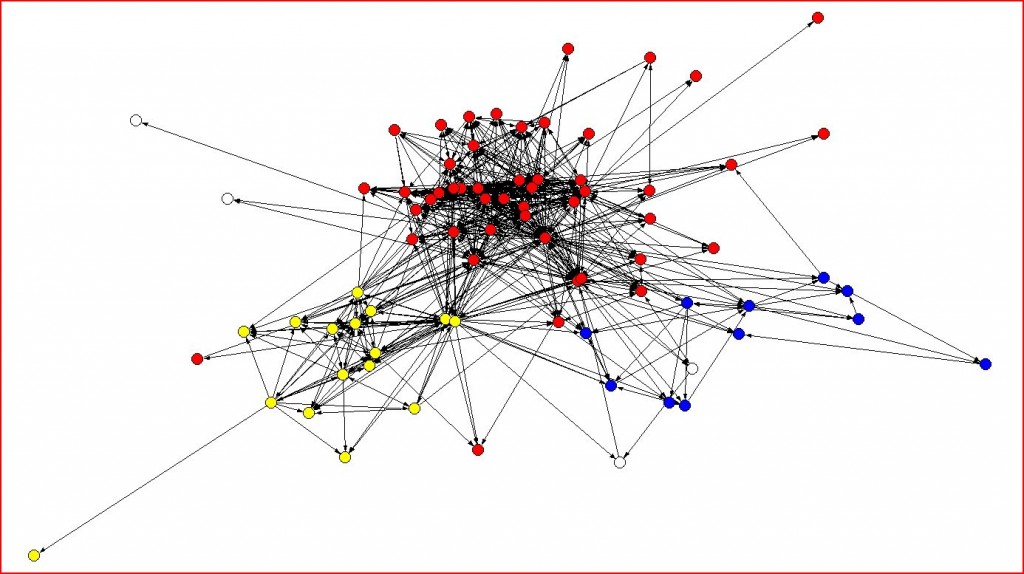 Each of the nodes in the above diagram represents an MP, coloured according to party affiliation (those MPs that are not in one of the three main parties are coded white).  The layout of the nodes is based on the Fruchterman-Rheingold algorithm, which tries to place connected sites close together. Party affiliation plays no part in the positioning of the nodes, although it obviously plays a part in who MPs listen to on Twitter.
So who is the MPs' MP on Twitter?
Whether taking into consideration neighbouring connections, or looking at the network as a whole, the most central MPs are all Labour MPs. This is hardly surprising with such a large number of Labour MPs and the tendency for party links.
Degree Centrality (i.e., only taking into consideration neighbouring MPs):
Kerry McCarthy (@KerryMP) -33 MP followers
Tom Watson (@tom_watson) -30 MP followers
Sadiq Khan (@SadiqKhan) -27 MP followers
Kevin Brennen (@KevinBrennanMP) -26 MP followers
Jim Knight (@jimknightmp) and John Prescott (@JohnPrescott) – both 25 MP followers
Betweenness Centrality (based on the shortest paths between all the different nodes):
Kerry McCarthy (@KerryMP)
Tom Watson (@tom_watson)
Jim Knight (@jimknightmp)
Tom Harris (@TomHarrisMP)
John Prescott (@JohnPrescott)
Obviously this network analysis has only looked at the MPs in isolation, and we'd hope it was also being used to communicate more effectively with constituents, but as with all social media metrics they are the starting point for the discussion. The next stage is looking out how the networks are actually being used to share information, i.e., through RTs, rather than just potential avenues for sharing information.  Unfortunately we have to wait a bit longer for the API to gain that functionality.
UPDATE October 7th: Curiously enough I just received an email highlighting another study of the political Twittersphere by Sysomos…curious because I was emailed at my other blog which had nothing about the political blogosphere!
« go back
—
keep looking »