Posted on | June 30, 2010 | No Comments
Last week I gave a talk at an Elsevier corporate customer event in Amsterdam: Web 2.0 and 3.0 in corporate libraries. I was invited along based on the Web 3.0 promises change for libraries paper I had written for Research Information, and jumped at the chance not only for a free trip to Amsterdam (which is not actually that great as for some reason my academic career was filled with trips to Amsterdam), but also to hear from Elsevier, one of the world's biggest publishers.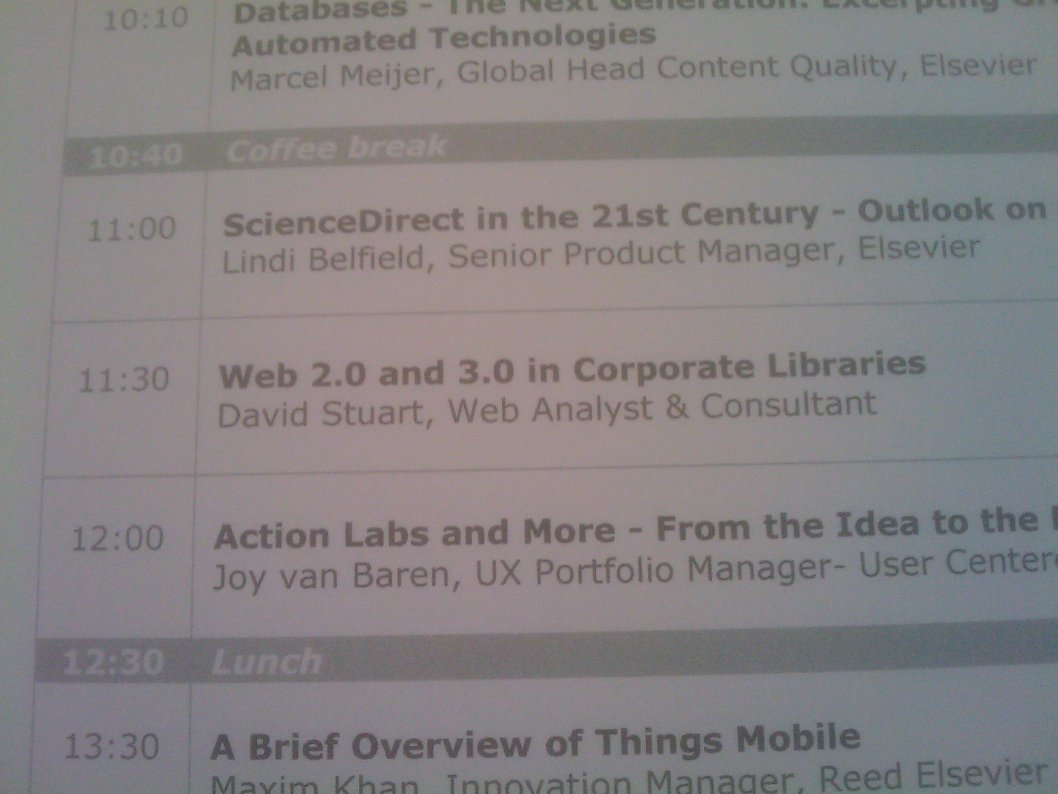 As the title of my talk suggests, it was a wide-ranging talk, covering everything from social network sites and mobile phones to blogs and open data; all the papers and work I've done over the last year packed into a single half hour. Many of the topics I discussed were also covered by the Elsevier speakers, albeit from with a typically corporate flavour. Two examples of which are their iPhone app and their forthcoming application platform.
Every time a company launches an iPhone app I cringe. 1) It forgets the fact the overwhelming majority of people don't have an iPhone. 2) It's often more about being seen to have an iPhone app than having a useful app. Whilst there is undoubtedly a use for a mobile Elsevier application, and there will be many iPhone users, it would have been better to spend the money on enabling external developers to interact with Elsevier content rather than developing a single application.
The good news is that in the future Elsevier will be allowing developers to build applications around their content, unfortunately once again it will be done with a distinctly corporate flavour: an application platform where developer's programs can be run after they have been approved by the a panel of Elsevier staff and external researchers!
Elsevier, like many organizations, are recognising the advantages to be had by making their data and content available to a wider range of users in the places and ways that the users want it, and the advantages of engaging with external partners. However, also like many organizations, they are worried about how their data will be used. Technical adoption is one thing, cultural change is another.
Comments