Posted on | March 22, 2010 | No Comments
Whilst I wasn't a scholarly undergraduate, there is one particular acetate that sticks in my memory – or rather, one particular acetate for which I had vague recollections that I filled out by emailing the relevant (now retired) professor.  It concerned the classifying of academics according to the quality and quantity of their outputs.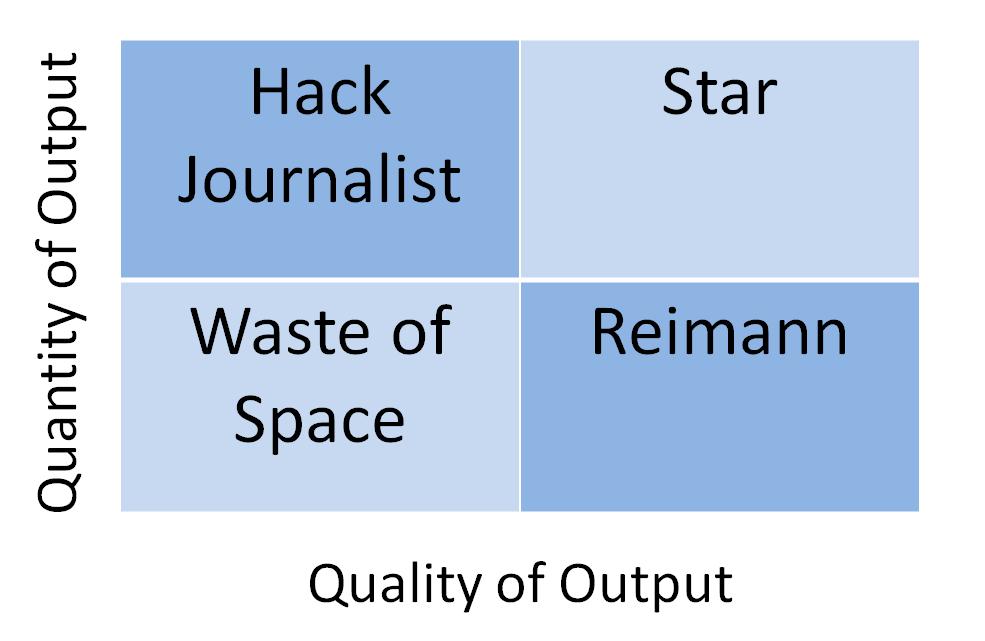 If you only write a few articles you are either a 'waste of space' or a 'Reimann', a genius mathematician who only wrote about 10 highly influential papers. Whereas if you write a lot of articles you are either a 'hack journalist' or a 'star' depending on the quality of the papers.
The coursework associated with the module was an investigation of a particular academic, for whom you had to come to a conclusion about where they would be positioned on the grid. My academic for investigation was Bob Usherwood – then a professor in the information studies department at Sheffield University.  In typical judgmental undergraduate fashion I decided he fell into the 'hack journalist' category, as he had written a number of articles in trade publications as opposed to solely publishing in peer-reviewed academic journals. With hindsight I have decided to agree with the professor who decided my selection was a bit harsh…especially as I have just put the final touches to a paper on Linked Data which means I now have as many professional articles as academic  articles.
Curiously the academic papers I have had published over the last year have taken far less effort that the professional publications, whilst the professional publications have been cited far more often, albeit often in places that didn't exist in 2002.
Comments