Posted on | February 22, 2013 | No Comments
My last post…many months ago…mentioned the fact that I had just been commissioned to write another book: Web metrics for the library and information professional. It's a project that has taken a bit longer than I would have liked, primarily due to the arrival of a baby, but is now well on the way to completion. Anyway, as part of the book I am collecting data from a number of online sources to show the potential of web metrics and some of the freely available information sources that are available. Unsurprisingly this includes the use of social media in libraries, so as part of the process the main library page for every university library in the UK was visited, and a note made of their social media accounts (excluding blogs, bookmarking buttons, and wider university accounts).
This data is shared here in case it is of use to anyone else.

It does not claim to be exhaustive. Many libraries and librarians will have accounts that are either not linked to, or can only be found from a bit of digging around a web site. Nonetheless this would seem to provide a sufficiently robust sampling process for demonstration purposes and exploratory studies. This list and order of universities is from the Guardian's 2012 university ranking.*
So what does this table show us – without any complex analysis: if UK university libraries are experimenting with novel forms of social media, they're not particularly advertising the fact. Twitter and Facebook are the most popular, and with the exception of YouTube, no other site has made much of an impact.
Most prevalent social media:
Twitter – 78/119
Facebook – 59/119
YouTube – 21/119
Flickr – 4/119
Google+ – 4/119
FourSquare – 3/119
Vimeo – 2/119
Pinterest – 1/119
Google Gadget – 1/119
Number of social media per library:
5 – 1/119
4 – 4/119
3 – 17/119
2 – 35/119
1 – 32/119
0 – 30/119
I don't doubt that university libraries are using a whole range of social media, but they could do much more to advertise the fact.
*Yes. I should have probably used the 2013 ranking which is available here for those who want to cut/sort/paste appropriately.
Posted on | March 22, 2012 | No Comments
Publishing my first book, "Facilitating access to the web of data: a guide for librarians", was my professional highlight of 2011. However as a webometrician the publication was only the start of the story, it was quickly followed by an obsession with all the various numbers surrounding the book:
What is its sales rank on Amazon.co.uk? What about Amazon.com, Amazon.de, Amazon.fr? How many libraries are holding copies? How many people are talking about the book? How many blog mentions? Tweets? Reading lists? How have people rated it on Good Reads, Shelfari, or LibraryThing? How many citations are there in Google Scholar, Web of Science, Scopus?
Whilst I may have a tendency to be a bit more obsessed with my numbers than most, there has been increased interest generally in the opportunities the web provides for measuring an individual or an organization's content. As such I thought I'd write my next book on the subject, and I just got commissioned today!
Working title: Web Metrics for the Library and Information Professional. If all things go to plan it should be published during the second quarter 2013.
Library and information professionals are increasingly creating, managing, and monitoring a wide range of content, from social media accounts and web sites to more traditional research outputs, and the book will be designed to provide a practical introduction to web metrics for a wide range of library and information professionals; from the bibliometrician wanting to demonstrate the wider impact of a researcher's work than can be demonstrated through traditional citations databases, to the reference librarian wanting to measure how successfully they are engaging with their users on Twitter. It will not only enable the library and information professional to understand the impact of content, but demonstrate this impact to others within the organization and beyond.
Today I shall enjoy the pleasure of being commissioned to write another book. Tomorrow I'll probably remember the hard work involved in writing that book.
Posted on | May 28, 2011 | No Comments
Having spent most of the day creating the index for my book, I thought I would see what it looked like as a Wordle.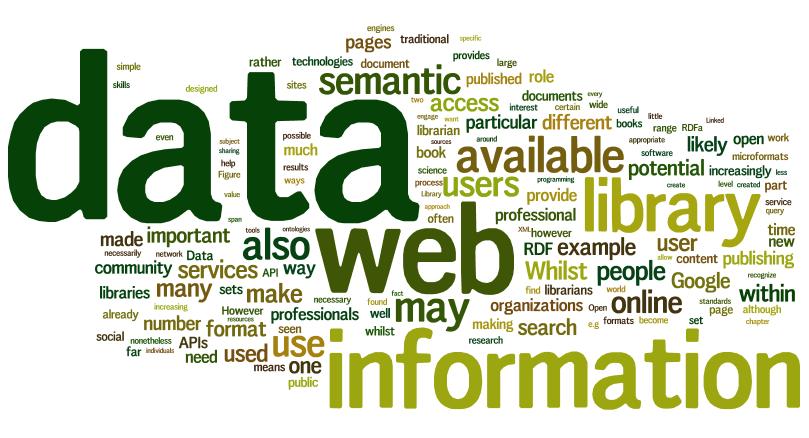 Unsurprisingly for a book on the web of data, data is the most popular term; in fact it's mentioned 1,245 times!
Posted on | April 27, 2011 | No Comments
Somewhere during the process of agreeing to write a book, I seemingly inadvertently agreed to get all the copyright permissions for the images used in the book. As the images that were not available under an appropriate Creative Commons license were merely screenshots, I thought I would be excused the arduous chore under the banner of 'fair use' or 'fair dealing'. Unfortunately as the law and common sense have very little in common, the publishers weren't taking any chances. If the web site owners didn't grant their permission the pictures weren't going in!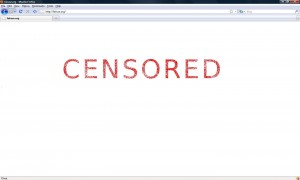 It seems absurd to have to ask a web site's permission to use screenshots, after all it in no way undermines the services that they offer; people aren't going to stop visiting Google.com and start opening my book instead when they want to find a cheap hotel in London! Whilst permission has now been granted by virtually all the organizations I asked (I am just waiting for one more to respond), there were vast differences in the hoops I had to jump through to get the permission.
In most cases it was quite simple. Sites either have an explicit policy or they are happy to grant permission the moment you ask. A minority of organizations asked to see the relevant pages from the book, and in my case they were then happy to grant permission (although I balked slightly at the idea of being asked). One organization, however, did prove more difficult, and responded with a number of conditions:
First, be sure to include the following attribution under our image — © 2011 Company Name www.companywebsite.com. The attribution should incorporate notice of our copyrights. This is essential because it informs third parties of our rights, and prevents inadvertent infringement.

Second, your use of the image must not imply in any way that Company Name endorses the particular substance or general quality of your work.

Third, we request a copy of your book with permission to reproduce all or portions of it for marketing purposes.

Fourth, any use of the image that is available online or in electronic format should include a hyperlink to www.companywebsite.com. — and must not be downloadable at a resolution superior to 640 x 480 pixels at 72 dpi.
Just to reiterate, this is for the inclusion of a single screenshot in a book that is likely to sell a few hundred copies! Conditions 1, 2, and 4 may be seen as over-eagerness on the part of the company, although condition 3 is just taking the piss! For sake of highlighting their service in a positive light, in a manner that in no way undermined the value of their intellectual property, I was being asked fundamentally undermine the value of my own intellectual property! In response to pointing out that such a condition was unacceptable to both me and my publisher, and the attitude of sites such as Google the web site relented, and as such I have not shamed them here.
Attitudes to copyright tell a lot about an organization. The above company, despite their aspirations, look destined to be a small time player in the world of search; out of touch with the times. At the other end of the spectrum is Google, with its policy of "no need to ask". And somewhere in between is the muddled world of Yahoo!; there's no need to ask at Yahoo.com for screenshots, although Yahoo.co.uk requires you to send them all the details including a "mock-up of the book or website in which the Yahoo! materials will appear"!
I think my next book will have no images.
Posted on | April 19, 2011 | No Comments
Whenever people stop blogging for a couple of months, people take it as a sign of the death of blogging, or at least blogging in its traditional format. Unfortunately too often life does get in the way of blogging, but I like to think that my excuse is better that most. As I mentioned many months ago, I have been writing a book, and when you are painfully dragging each and every word from the  addled recesses of your mind the last thing you want to do is knock out 300 words on why the masses insist on retweeting the ignorance of celebrities. At last, however the book is finished, or rather almost finished as I wait for the final version back from the publisher. It is however, already available for pre-ordering on Amazon: Facilitating Access to the Web of Data: A Guide for Librarians
.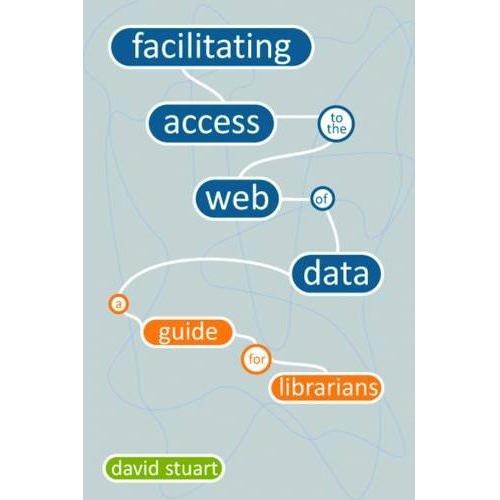 There are a number of questions people have when you've written a book: what's it about? who's it for? and most importantly, why the hell did you choose to spell your name without capital letters?
What's it about? The book is about the masses of data that has been published online, and the fact that, if it is to be useful, most people need help getting access to it.
Who's it for? The book is aimed at librarians, as I believe they are ideally placed to help people access this data.
Why didn't I use capitals? I never saw the cover before it was approved, and I ask any readers of the book to take a big black marker pen and put capitals on the front cover [yes...even if it's a library book].
Most importantly, as I've finished my book, I can at last start writing those blog posts you all look forward to so much.
[nb. The cheapest place I've seen the book is at the Book Depository at £33.71, if you see it cheaper anywhere else let me know]
Posted on | August 2, 2010 | 1 Comment
As Granovetter explained in his 1973 article, The Strength of Weak Ties, our weak ties (i.e., our network of acquaintances rather than friends) play an especially important role in the diffusion of information because are acquaintances are more likely to possess new perspectives and knowledge, whereas our friends are more likely to share much of the same knowledge. What I find amazing about social network sites is how weak the ties can now be, and how difficult my own job would be without them.
Much of my working life is spent as a writer- writing about various web technologies and their use in libraries – and for this I need two things: to be commissioned to write, and to have content to write. In the last few weeks social network sites have helped with both aspects.
Twitter Serendipity – I was following a publisher on Twitter who put a call out for freelancers. Whilst I had exchanged emails with the publisher before, the tie would have been too weak for them to have thought to contact me directly.
LinkedIn Mining – Writing an article on the use of social networking sites in libraries I needed to get the perspective of a librarian in a commercial environment; unfortunately I didn't know any. Luckily I knew a man who I thought would – my undergrad supervisor who has been churning out librarians for decades – whereas I wouldn't have necessarily emailed to ask him for names, I was happy to make use of his open network.
Without Twitter I would never have got one piece of work (and hopefully more in the future), and without LinkedIn another piece would have taken much longer to complete. It's amazing to think how many organizations continue to prevent workers accessing social network sites, and the opportunities that they are missing.
Posted on | June 30, 2010 | No Comments
Last week I gave a talk at an Elsevier corporate customer event in Amsterdam: Web 2.0 and 3.0 in corporate libraries. I was invited along based on the Web 3.0 promises change for libraries paper I had written for Research Information, and jumped at the chance not only for a free trip to Amsterdam (which is not actually that great as for some reason my academic career was filled with trips to Amsterdam), but also to hear from Elsevier, one of the world's biggest publishers.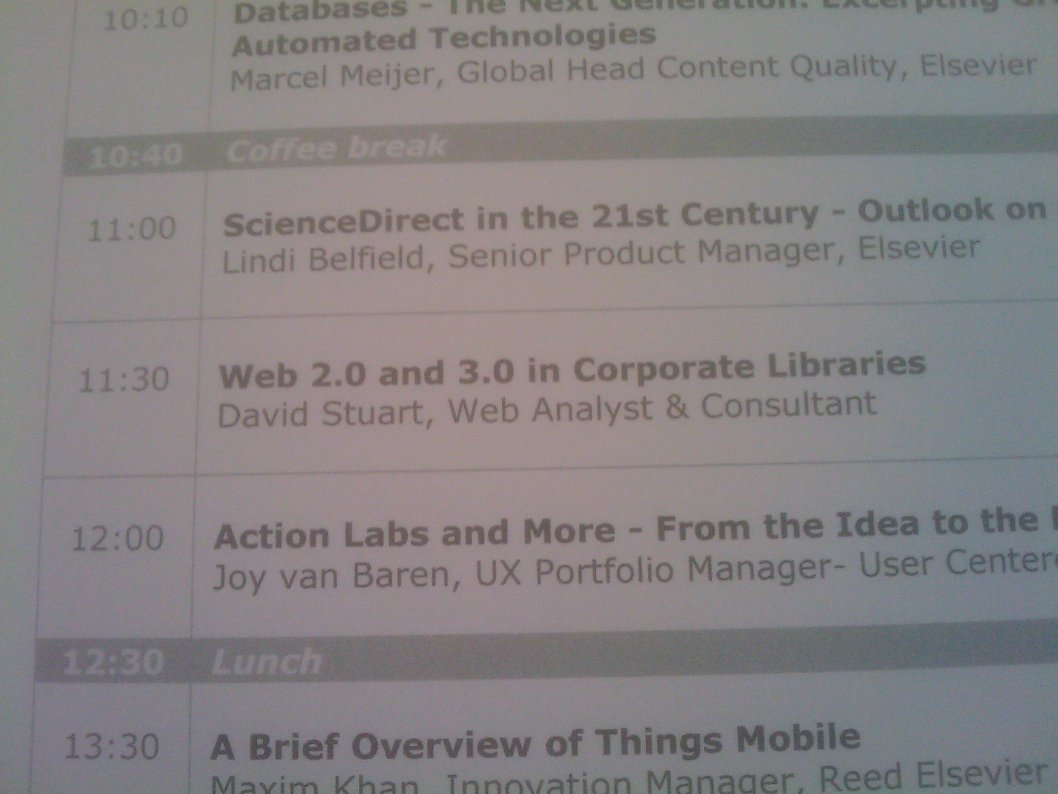 As the title of my talk suggests, it was a wide-ranging talk, covering everything from social network sites and mobile phones to blogs and open data; all the papers and work I've done over the last year packed into a single half hour. Many of the topics I discussed were also covered by the Elsevier speakers, albeit from with a typically corporate flavour. Two examples of which are their iPhone app and their forthcoming application platform.
Every time a company launches an iPhone app I cringe. 1) It forgets the fact the overwhelming majority of people don't have an iPhone. 2) It's often more about being seen to have an iPhone app than having a useful app. Whilst there is undoubtedly a use for a mobile Elsevier application, and there will be many iPhone users, it would have been better to spend the money on enabling external developers to interact with Elsevier content rather than developing a single application.
The good news is that in the future Elsevier will be allowing developers to build applications around their content, unfortunately once again it will be done with a distinctly corporate flavour: an application platform where developer's programs can be run after they have been approved by the a panel of Elsevier staff and external researchers!
Elsevier, like many organizations, are recognising the advantages to be had by making their data and content available to a wider range of users in the places and ways that the users want it, and the advantages of engaging with external partners. However, also like many organizations, they are worried about how their data will be used. Technical adoption is one thing, cultural change is another.
Posted on | April 20, 2010 | 1 Comment
Most of yesterday was spent at a really interesting Local Public Data Workshop in Birmingham. The aim of the day:

To generate ideas and understanding about what is needed to drive the local public data initiative at a local level
The group was comprised of people from the local councils, and an eclectic selection of "bloggers/developers/activists/academics". Curiously I found myself labelled as "social media activist", probably the least appropriate of the four available labels.
Overall the workshop was very positive. There was very little 'should we be doing this?' , instead it was 'how are we going to do this?' Everyone recognised the risk-adverse culture in local government, and the potential problems that could occur when opening up certain data, but the questions from the council were far more practical – where are the ontologies? what should we open? A bit of a push from central government and the world of local data will be transformed.
There were, understandably, a few questions about data usage, and incentivizing wider use of the data is an area I would like to see discussed more. The need for stories (i.e., case studies by a friendlier name) that sell open data to the wider set of stakeholders was widely recognised, but to really kick-off this virtuous circle of open data we need local stories of unexpected data use. Whilst some data has more obvious wider interest than others (crime, accidents, etc.), let's incentivize the less popular data sets; show councils that whilst they may not immediately see the wider applications of the data they are opening, other people will.
It should also be noted, that whilst everyone in the room was on board, it's unlikely that proposition will be universally popular. As one wily old dog pointed out afterwards, one of the risks of opening up the data, that wasn't mentioned, was to council jobs.
Posted on | April 2, 2010 | 2 Comments
Two and a half months after I sent off the book proposal, the ink is now drying on the 'Memorandum of Agreement' between myself and Facet Publishing: "The publisher of choice for the information professions" and the first one I sent my proposal to. I promise not to be "obscene libellous or defamatory" and they promise to publish my book.
As the title of this blog suggests, the book will be on the web of data. Facilitating Access to the Web of Data: a guide for librarians is currently the provisional title, and pretty well sums up the scope of the book. Increasing quantities of data are being made available online all the time by a variety of organisations and individuals. Most noticeably over the last year, governments throughout the world. Just yesterday saw the opening up of the UK's Ordnance Survey data. This data has huge potential for researchers, businesses, and the general public, and library and information professionals have an important role to play in making sure it realises its potential.Whereas 'social media' and 'web 2.0′ are the buzz words in organisations today, in six months time it will be the 'web of data'…at least that's what I persuaded my publisher.
Having already written one book-length document, in the form of my PhD, I must admit the thought of writing 75,000 words by 6th December 2010 is slightly daunting. But at least this time I will working in a field where there is seemingly a never-ending supply of innovative people creating exciting services.
If you want to know more about the 'web of data' and some of the work that is being done, it will be the focus of May's Black Country Social Media Cafe. The finishing touches are still being made to the cafe's line-up of speakers, but rest assured I will not be speaking and trying to get advanced orders for my book….unless you really want me to

Posted on | March 22, 2010 | No Comments
Whilst I wasn't a scholarly undergraduate, there is one particular acetate that sticks in my memory – or rather, one particular acetate for which I had vague recollections that I filled out by emailing the relevant (now retired) professor.  It concerned the classifying of academics according to the quality and quantity of their outputs.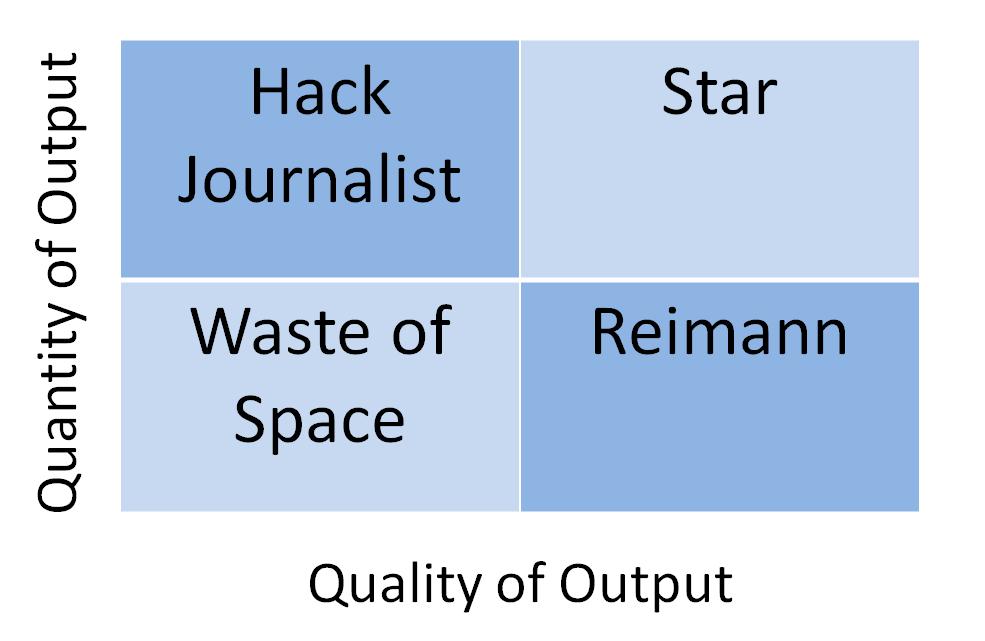 If you only write a few articles you are either a 'waste of space' or a 'Reimann', a genius mathematician who only wrote about 10 highly influential papers. Whereas if you write a lot of articles you are either a 'hack journalist' or a 'star' depending on the quality of the papers.
The coursework associated with the module was an investigation of a particular academic, for whom you had to come to a conclusion about where they would be positioned on the grid. My academic for investigation was Bob Usherwood – then a professor in the information studies department at Sheffield University.  In typical judgmental undergraduate fashion I decided he fell into the 'hack journalist' category, as he had written a number of articles in trade publications as opposed to solely publishing in peer-reviewed academic journals. With hindsight I have decided to agree with the professor who decided my selection was a bit harsh…especially as I have just put the final touches to a paper on Linked Data which means I now have as many professional articles as academic  articles.
Curiously the academic papers I have had published over the last year have taken far less effort that the professional publications, whilst the professional publications have been cited far more often, albeit often in places that didn't exist in 2002.
keep looking »